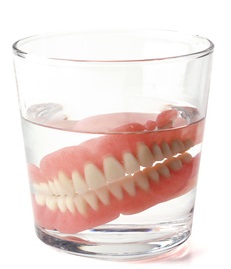 It is important to keep your dentures clean.  Good care of your denture increase their lifespan and keep them looking as good as new.
You will need:
denture brush
a denture cleaner
 water
Steps:
• Use your denture brush to clean off food debris.
• Mix denture cleaner. A quarter capful with water in the denture box.
• Soak your denture for 10 minutes.
• For stubborn stains leave for 20 minutes.
• Once your dentures have been soaked remove them from the solution and rinse thoroughly with water.
• Place your dentures in your mouth
Please don't ever use toothpaste or bleaching agents on your dentures.
If you do see a build up come in and see me and I can clean them up for you.
CALL OUR OFFICE IF YOU HAVE CONCERNS – 250-914-0025